IPTV Solution
Info Distribution System
Information Distribution System
Information Distribution System Diagram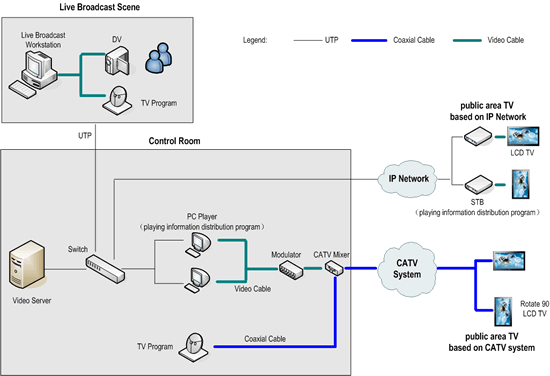 Further explanation
nformation Distribution System can be based on IP Network and CATV System Network.
Live broadcast signal comes from Live Broadcast Workstation which located at live broadcast scene. The information distribution program including live broadcast signal.
Every PC Player has a different playing schedule, every PC Player connected with Modulator means a different program channel.
Every STB has a different playing schedule, every STB connects with LCD TV at public area based on IP network.
The amount of public area TV based on CATV System is unlimited. So the application cost for Mader Information Distribution System, more bigger, more cheaper.
The playing program on PC Player read from Video Server. The playing schedule for PC Player comes from Video Server. The user can adjust/add/delete/insert every PC Player playing schedule anytime, just like an Information Distribution TV Station.
II. Multimedia Information Publish System Software
1. Powerful Management Function
Information Distribution System provides powerful management function. We can control Video Server/Live Broadcast Workstation/PC Player/STB/Playing Schedule by management software.
2. Flexible Template
Normal Template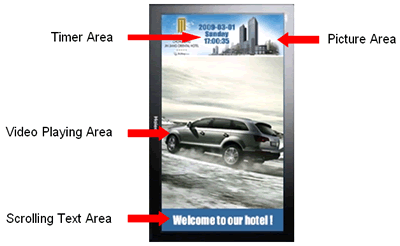 3. Change Playing Schedule by request of customer
Usually, Information Distribution System provides 3 ways to change playing contents. Modify Schedule Playlist, Adjust Content and Insertion Playlist
Wherever you are in the world, thank you for visiting our website.
We are here to listen, help and advise.
Contact us now and our professional, friendly staff will be pleased to assist with your enquiry.